Any suggestions on compound, manufacturer or where to buy?
At the back, I'm using Rhino Organic Pads.
They're 'softer' than Sintered Pads, and don't chew the Disc up.
They only last around 5000 miles, but then I'm quite hard on my Rear Brake (as I am on the Fronts too!).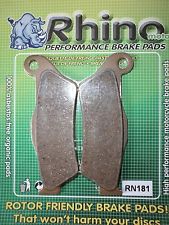 They're much cheaper than other types, so I don't mind that they don't last as long.
Good 'feel', and work well.
They're the same fitment as many other Bikes, mostly MX/Enduro Front Calipers, KTM and others.
Some Websites list the incorrect Pads for the rear, so double-check.
Cross reference against the Rhino ones (RN181) if you can.
At the Front, I'm using what came with the M4 Monobloc Calipers I've fitted (unknown make/type), so can't recommend for those.
I'll go with Organic in those as well. when they need doing though.