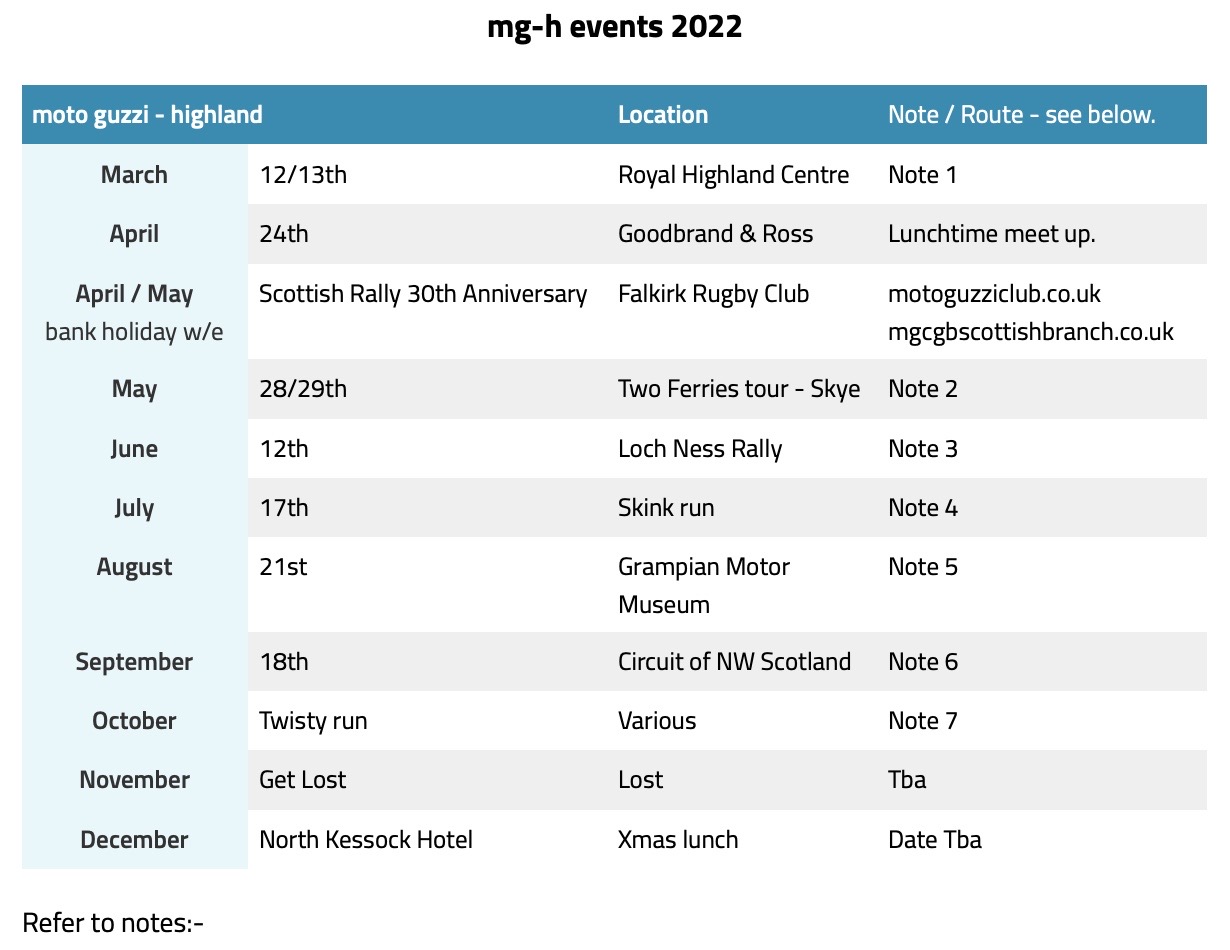 mg-h events 2022




Note 1: Attend the Scottish Motorcycle Show over the weekend of the 12th & 13th March. Visit the show and meet the Scottish Branch members on their Guzzi stand. £15 entrance and £5 car parking.
Note 2: An overnight camp at Ardelve, Dornie on the 28th May. Midges may be present but this early hopefully not too vicious. Meet at Ft William (Morrisons cafe at 11:00), drive to Mallaig for lunch, CalMac ferry to Skye 13:40 check in, take the Glenelg ferry, take Mam Ratagan pass and pitch at Ardelve site, Dornie (cross bridge from castle). Pub supper in Dornie that night. Following day head for Invergarry, lunch at Spean Bridge and head for home via A82, north or south, or the Loch Laggan road onto the A9. Dornie Hotel may have accommodation for the non-campers. [dornie-hotel.co.uk]. Ferry at Mallaig has limited space for m/c's and therefore booked to own account. Ardelve campsite: 01599 555231 (no-reservations!). CalMac: 0800 066 5000 (general enq).
Note 3: No machine built later than 2002 can enter however one can view the machines at the rally build up (09:30 on) at Fairways Leisure centre just off the Inverness south bypass and watch them go by at various location around the loch. Staged departure from about 11:00.
Note 4: Leave Inverness, coffee at Findhorn, coastal route to Cullen for a bowl of skink, return via ???
Note 5: Meet at Huntly for coffee at Deans of Huntly, Depot Rd, Huntly AB54 8JX at 11:00, visit and lunch at the GMM, Alford.
Note 6: Meet at the Pier, Lairg for coffee, head west to Laxford Bridge via the A838. Lunch at Kylesku Hotel, return east via Rosehall to Bonar Bridge on the A837.
Note 7: Challenging run involving some backroads not exactly conducive to lardy motorcycles. Route will include Garbole and the Inverfarigaig bends. Fabulous, but perhaps not for the faint hearted! Lunch at Whitebridge Hotel for change of underwear and take onboard vitals.
On the 2nd 3rd July a large event; the Royal Deeside Motor Show is taking part. Unfortunately the cost of entering this with bikes is, to my mind excessive, and a tad heavy handed with conditions but may be of interest to those in the Grampian area for a day visit. It may be one to watch for the future and maybe negotiate reduced costs as a group. [https://www.etiom.co.uk/royal-deeside-motor-show]
Awaiting info on the Brodie Castle (NTS) Historic Wheels rally. It has been held in mid August in previous years. Caveats: Please check, before the event, to ensure it is still taking part. Should Covid or other circumstances dictate cancellation then this information may be posted on the website:-
[spanglefish.com/mg-highlands] - undergoing update at present.
Info will also be posted on the branch social media Facebook and twitter pages:-
Facebook: [facebook.com/groups/343536406628821] [Twitter:[@mghighland] , email me at: mad.farquhar@gmail.com